Here we go for round 2. I've been on a spree of making Christmas treats
for myself and the room mates. One of my favorites so far has been puppy chow. Don't let the name fool you. This is a delectable treat! I've altered the recipe a bit to fit my specifications (namely more chocolate/peanut buttery).
What You'll Need:
8 cups of Chex cereal (I used honey nut flavor)
2 cups of chocolate chips (semi-sweet)
1 cup peanut butter
1/2 cup butter or margarine
1 1/2 cups icing sugar
1/4 teaspoon vanilla extract
In a large bowl melt the chocolate chips, peanut butter, butter and vanilla and mix well. Put the Chex cereal in a large ziploc bag and pour the chocolate mixture in. Give a good shake until all the chex pieces are perfectly coated in the chocolate mixture and pour in the icing sugar to lightly dust all the goodies inside. Once you have thoroughly mixed everything, you are ready to enjoy!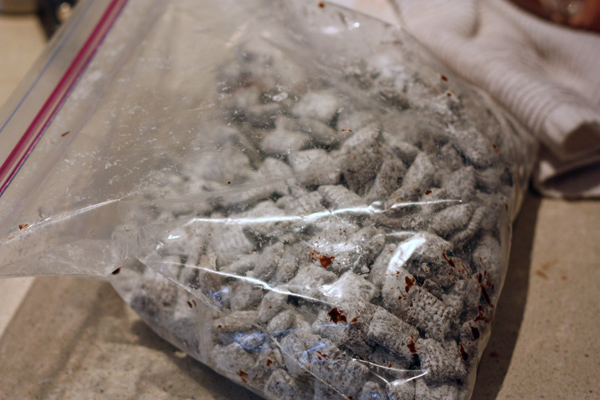 You won't be able to stop eating this so beware. Bon Appetit!